2017 NE Ohio
Cross Country Camp
The dates of the 2017 camp are:
· Week 1 - July 23 - July 28
· Week 2 - July 30- August 4
Remember... be ready for registration to open at 12:01 am on
Groundhog's Day, February 2nd, 2017!!
The following 2016 camp information will be updated as soon as I get the contract with the camp finalized.
2016 Camp Information
Emails have been sent to all approved campers with information of Where to go, when to arrive and what to bring. Copies of those letters are found at these links:




amp information will be communicated through the website and email. Be sure to provide an email address on the form that you check regularly since information will be sent periodically through that email.
The total cost of the camp is $290. The $215 balance of the fee being either paid by July 15th. Payment of the balance can be either made by check through the mail (info below) or paid online (a $7 Paypal secure payment fee is added to become $222)

For runners paying the camp balance through the mail - Camp checks are to be made out to:
"Gopher Running" and mailed to:
NEO XC Camp - 2533 Davis Peck Road - Cortland, Ohio 44410
There are also three forms that will need to be completed prior to camp and mailed in to the above address. These forms, along with full payment are due by July 15th.
1. A copy of your signed School Physical Form (get from school or doctor)
2. Camp Rules and Safety Form (print this link)
3. Background Information Form (print this link)
The NE Ohio CC Camp will be held at Templed Hills Camp in Bellville, OH, 12 miles southeast of Mansfield. The 230 acre camp offers fine facilities including an Olympic size swimming pool, volleyball and basketball. The camp is in a rural setting, offering trails and rural roads for training. Runners will sleep on bunks in cabins or in dorm type facilities. The camp is owned by the United Church of Christ. Campers are expected to respect the facility and treat it accordingly.
§

Clinics at camp will be over topics including training, racing, diet, psychology of running, stretching, body composition, form, injuries, training logs and shoes.
§
Nightly speakers discussing these and other topics will include college coaches, exercise physiologist, athletic trainers, shoe experts and top national runners.
§
Camp participants will also receive: souvenir camp, a packet of running related gifts, booklet of discussion topic handouts, and three meals per day.
The Philosophy
The directors and staff of the NE Ohio CC Camp share the philosophy that lasting success in distance running must come from within the athlete. Regardless of the enthusiasm that coaches and parents share for the runner, the level of success will ultimately depend upon the runner's dedication and determination. The camp is thereby committed to instilling an attitude of enjoyment in each runner. For only when the runner learns a love of the sport, will they develop a work ethic allowing them to establish challenging goals and put forth the necessary training to accomplish these goals. The camp is geared toward the junior high and high school runner that has a positive attitude towards self improvement through training designed to be strenuous yet rewarding. The training runs at the camp will be broken into low, intermediate and upper mileages. Each runner should be in adequate condition to run a minimum of 6 miles each day, with the intermediate group covering an average of 8 miles each day and the upper group 10-12 miles.
Click here to download the printable 2016 NEO Camp Brochure
2015 Footlocker National Champion Drew Hunter at 2015 NEO XC Camp
Follow us on:
Twitter - @NEOXCCFacebook
The Directors
2016 will mark the 37th year for the NE Ohio CC Camp. Directors will be Ted Rupe, Chris Rupe and Fred Kieser. This trio along with the accompanying staff represents some of the finest runners and coaches in the Midwest United States.
Ted Rupe
In his over 45 years of competition and coaching, Ted has accumulated some fine credentials. He was the 1972 State CC Champion in Div. A, leading his team to the state title. He was world ranked in the 10 K in 1977, won the Cleveland Marathon in 1986 and the 1986 Moscow Peace Race. As a coach, his teams qualified for 20 straight state CC championships from 1990 through 2009, 14 of these teams finished in the top 4 at the Ohio State Championships, including a 1997, 2002, 2003 and 2005 State Championship and runners up in 1990, 1998 and 2001. He also coached the 2000 track team that tied for a state championship. He was selected as Ohio's High School CC Coach of the Year for 1997-1998. Ted was inducted into the Ohio Track and Cross Country Hall of Fame in 2003 for his accomplishments.
Chris Rupe
Chris boasts a 14:37 5k, and 24:10 for 5 miles and 2:21 marathon. He has finished as top Ohioan twice at Cleveland Marathon and twice at Columbus Marathon. Recently at McDonald HS he has coached 5 state championship 4x800 relay teams and state champions Becky Testa, Stuart Henderson and state record holder Ed Stonestreet. His 1999 Track and Cross Country teams were both state champions. His 2001, 2004, 2011 and 2013 CC Teams also won the state championship, while his 2000, 2002, 2003, 2007, 2010 and 2012 squads were runners-up. Chris was inducted into the Ohio Track and Cross Country Hall of Fame in 2013 for his accomplishments.
Fred Kieser
Fred has had a long career as a runner and coach. As a high school athlete his senior year at Kirtland he finished 2nd in cross country and was on the winning 4 x 800 meter relay. Then at Miami University he qualified for the NCAA championships in cross country and won his conference 3000m steeplechase title twice. After college Fred found his niche on the roads, especially in the marathon where he has won 3 big city marathons, qualified for two Olympic Marathon Trials, and has a PR of 2:17:20. Even at the masters level, Fred continues to compete including a masters national championship in the 15k, a second place in the 10k, and a 3rd place at the masters cross country meet. He coaches track and cross country at Saint Joseph Academy in Cleveland where his teams have qualified to 7 state meets with a best finish of 4th place.
The Staff
Below is the staff from the 2015 NE Ohio CC Camp. The staff for the 2016 NE Ohio XC Camp will include many of the same staff with some additions.
2015 Week 1 Staff


2015 Week 2 Staff
Below is a partial list of the anticipated camp staff for
Cory Leslie - Perkins High School, Ohio State University, assistant coach Furman University, and runs for Nike. HS state champ in 800, 1600, and cross country. PRs 1500 3:37.97, 1 mile 3:56.18, 5k 13:43.73, steeplechase 8:20!!! 3rd NCAA steeplechase.
Adam Bray - competed for Canal Fulton Northwest and the University of Akron. Currently the distance coach at the University of Pittsburgh also has experience at Maryland, Illinios, and Temple.
Rick Williamson - Has run 3:51 for 1500 and 14:35 for 5K. Former coach of Aurora High School, Northwood University, Notre Dame College and currently the distance coach of Wright State University.
Michelle Rupe - Brecksville High School, The Ohio State University, qualified for two Olympic Trials in the marathon with a PR of 2:41
Brad Hunt - Distance coach at Wake Forest. Hunt placed fourth in the 800 meters and sixth in the mile at the 1997 Mid-American Conference Indoor Championships. He also was fourth in the 1,500 meters and sixth in the 800 meters at the 1997 MAC Outdoor Championships. Hunt also recorded the fourth-fastest indoor 800-meter time (1:52.81) in Kent State history during the 1996-97 campaign.
Craig Rupe - Completing senior year at University of Akron where he lettered in cross country and track and was CC Co-Captain. Was 1st Team All-Ohio as a senior in CC at Maplewood and was a member of two state championship CC teams and one track team.
Tara Kieser - Former 2:12 800m runner for Baldwin Wallace and 2:53 marathoner after college. Currently coaching at Independence and Brecksville High Schools, has also coached at Avon and Avon Lake High Schools.
Jason Headman - former Edgewood High School and University of Akron standout. Successful post-collegiate runner and current coach at Stony Brook University in NYC. Has also coached at Heidelberg College, Allegheny College, and Binghamton University.
Andy Morgan - Maplewood High School and University of Akron Standout. PRs 3:51 (1500), 14:16 5k, 24:06 8k, 29:38 10k. Currently training full time.
Alexa Rick - Elyria Catholic and Ithaca College. All-Ohio cross country runner and state qualifier in 800m. 18:22 for 5k and 22:01 for 6k in college and top runner on national qualifying team.
Eric Rupe - Maplewood High School and currently at Youngstown State University. HS PRs of 1:55/4:16, and 16:11 in state cc. College 3:53 for 1500 (4:10ish), 9:23 steeplechase, and 14:22 or 5k.
Colby Alexander - Strongsville and currently at University of Oregon. State champ 1600 4:09, Foot Locker finalist cross country. 1500m PR of 3:44.23 (4:01 mile)
Corinne Kule - Chardon High School and West Virginia University. PRs 5:15, 11:13, 18:13 (11th state cc).
Ally Markovich - Hawken School and Princeton University. PRs 4:57 for 1600 (1st place state meet) and 10:50 for true 2 miles at New Balance Nationals (2nd place). 18:19 at state cc meet - 4th place.
Natalie Vidacs - North Royalton and University of Pittsburgh. PRs 5:23, 11:50, and 19:03 at the state cc meet.
Joe Eby - Walsh Jesuit HS and Mount Union. He was college all American in 1500m run. PRs of 3:44 for 1500 (4:01 mile) and ....Has coached at Depauw University, McPherson College, Wichita State and is currently at Nebraska.
Kyle Polman - Independence and Oklahoma. 5k track 14:55 (13th at New Balance Nationals), state champ 3200 state record Div III 9:12.01. 1600 PR 4:25.5. CC 15:23 for 3rd place.
Mark Hadley - Boardman High School and Furman University - 2013 Div I State XC Champion PRs - 5K-15:01, 3200m - 9:05.6, 1600m - 4:12.8
Garrett Crichlow - Twinsburg High School - 4th place in 2014 Div I State Track 1600m, PRs - 1600m - 4:11.3, 5K - 15:29.98
Updates on staff changes will be posted as soon as they become available
Camp Information Letters - What to bring, when to arrive, where to go and how to get there:
All camp mailings and payments are to be sent to:
2533 Davis Peck Road
Cortland, Ohio 44410
For mail in payments, checks are to be made out to: "Gopher Running"

Two-Time World Cross Country Champion Craig Virgin signs autographs at 2010 camp.


Previous Staff Members Bridget Franek, Cory Leslie, Michelle Sikes, Pat Sovacool and Chad Balyo in a question answer session with runners.


The Schedule
A typical day at camp includes: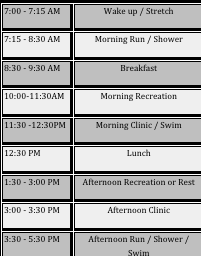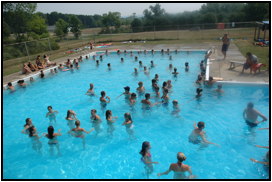 IMPAKTAUDIO - Camp Runners - if you loved the DJs for the Thursday Night Party, you can contact them at this link. Great for parties of all types!

Directions to Templed Hills Camp - 5734 Durbin Road, Bellville, OH:
Take I-71 to the Bellville exit, Route #97
East on #97 for 3 miles to Main Street in Bellville
Right on Main Street to Durbin Street (at the BP Station)
Left on Durbin for 1.5 miles to Templed Hills Camp on the right.


Past Camp Photos