2021 NEO XC Camp
The 2021 NEO XC Camp will be held over two 1 week sessions during these weeks:
Week 1 - July 18-23
Week 2 - July 25-30
The following links are the informational letters emailed out in June. They tell runners what to bring and when arrival and departure times are.
To pay the balance of your camp fee go to this link (you will need to know your camp ID# which can be found at the Camp Roster Link below) - Camp Payment Link
To find your camp ID# or to see who is registered for the 2021 camp go here - Camp Roster Link
The following forms must be completed by July 1st:
OHSAA Physical Form - All runners attending camp will be required to send a copy of their school physical form signed by their doctor. These forms can be obtained from your doctor or school athletic director. The must either be scanned and emailed to ted.rupe@gmail.com or mailed in to the address below.

Camp Rules and Safety Form - completed online here - Camp Rules and Safety Link
Background Information Form - completed online here - Background Information Form Link
Mail a copy of your physical here (this is my home address... do NOT come here for camp!) -
NE Ohio CC Camp - 2533 Davis Peck Road - Cortland, OH 44410
If paying balance of camp fee by check, mail to the address above and make checks payable to: Gopher Running
Two sessions of camp will be held this year; July 18-23 and July 25-30. Registration opens at 6:00 am on the morning of April 2nd. Registrants will be accepted on a first come first serve basis until the camp capacity of 200 registrants is reached for each session. Last year this limit was reached by noon on February 2nd. We anticipate the camp limit will be reached earlier this year since camp capacity is smaller due to Covid and nearly 100 runners that registered for the 2020 camp requested to have their registration transferred to 2021. The NE Ohio CC Camp reserves the right to reject entries to the camp to comply with both safety and disciplinary standards.
Covid Regulations
Even though camp will be an overnight camp very similar to past years, there will be some safety modifications to the camp to meet state Covid requirements. Following are some of the requirements that are currently in place. As the state requirements change, we will modify the safety requirements accordingly.
1. Runners will be required to show verification of a negative Covid test conducted within a 10 day period prior to the start of camp or proof of Covid vaccination. This link will provide locations near you to take a free test - Covid Testing Location Link
2. At camp, runners will be assigned to a "pod" of not more than 10 runners with a staff member. Pods will be composed of runners from the same school as much as possible. The pods will stay together for all basic activities during the week including sleeping, meals, recreation and meetings. Interactions between pods will be limited.
3. Only high school runners that will be in grades 9-12 in the fall of 2021 are eligible for camp. No junior high runners will be admitted this year.
4. Temperatures will be checked daily by staff members. If a runner shows symptoms of covid, they will be quarantined until a family member can pick them up from camp.
5. Masks must be worn when indoors and proper social distancing requirements must be adhered to.
We very much intend to make the 2021 NEO XC Camp an experience that will be very both very rewarding yet very safe.
The Camp
The NE Ohio CC Camp will be held at Templed Hills Camp in Bellville, OH, 12 miles southeast of Mansfield. The 230 acre camp offers fine facilities including an Olympic size swimming pool, volleyball and basketball. The camp is in a rural setting, offering trails and rural roads for training. Runners will sleep on bunks in cabins or in dorm type facilities. The camp is owned by the United Church of Christ. Campers are expected to respect the facility and treat it accordingly.
Camp Philosophy
The directors and staff of the NE Ohio CC Camp share the philosophy that lasting success in distance running must come from within the athlete. Regardless of the enthusiasm that coaches and parents share for the runner, the level of success will ultimately depend upon the runner's dedication and determination. The camp is thereby committed to instilling an attitude of enjoyment in each runner. For only when the runner learns a love of the sport, will they develop a work ethic allowing them to
establish challenging goals and put forth the necessary training to accomplish these goals. The camp is geared toward the junior high and high school runner that has a positive attitude towards self improvement through training designed to be strenuous yet rewarding. The training runs at the camp will be broken into low, intermediate and upper mileages. Each runner should be in adequate condition to run a minimum of 6 miles each day, with the intermediate group covering an average of 8 miles each day and the upper group 10-12 miles.
Camp Director
2021 will mark the 42nd year for the NE Ohio CC Camp. Ted Rupe began the NEO XC Camp in 1980 after competing for Cleveland State University and earning a masters degree in education with an emphasis in human performance. Ted serves as the 2021 NEO XC Camp Director. In his over 45 years of competition and coaching, Ted has accumulated some fine credentials. He was the 1972 State CC Champion in Div. A, leading his team to the state title. He was world ranked in the 10 K in 1977, won the Cleveland Marathon in 1986 and the 1986 Moscow Peace Race. As a coach, his teams qualified for 20 straight state CC championships from 1990 through 2009, 14 of these teams finished in the top 4 at the Ohio State Championships, including a 1997, 2002, 2003 and 2005 State Championship and runners up in 1990, 1998 and 2001. He also coached the 2000 track team that tied for a state championship. He was selected as Ohio's High School CC Coach of the Year for 1997-1998. Ted was inducted into the Ohio Track and Cross Country Hall of Fame in 2003 for his accomplishments.
The Staff
Below is the staff from the 2019 NE Ohio CC Camp. The staff for the 2020 NE Ohio XC Camp will include many of the same staff with some additions.
2019 Week 1 Staff
2019 Week 2 Staff
Below is a partial list of the anticipated camp staff for
Craig Rupe - Completing senior year at University of Akron where he lettered in cross country and track and was CC
Co-Captain. Was 1st Team All-Ohio as a senior in CC
at Maplewood and was a member of two state championship CC teams and one state
championship track team.
Ryan Adams - CVCA, Furman University - currently a sophomore at Furman University and a 2015 graduate of CVCA, where he was a 5x State Champ in track
and State Runner-Up in cross-country. Ryan set the Division 2 state record in
2015 running 4:07.12 in the 1600m. His other high school PRs include 1:51.02 in
the 800m and 15:41.37 in the 5k. At Furman as a freshman he ran 4:05.19 in the
mile and 3:42.25 in the 1500m which converts to a sub 4:00 mile. As a redshirt
freshman in cross-country he ran 24:08.50 in the 8k and 30:08.70 in the 10k. He
placed 24th at the NCAA Division 1 Southeast Regional to earn All-Region
honors.
Eric Rupe - Maplewood High School and currently at Youngstown State University. HS PRs of
1:55/4:16, and 16:11 in state cc. College 3:53 for 1500, 8:57
steeplechase, and 14:03 for 5k.
Cory Leslie - Perkins High
School, Ohio State University, assistant coach Furman University, and runs for
Nike. HS state champ in 800, 1600, and cross country. PRs
1500 3:37.97, 1 mile 3:56.18, 5k 13:43.73, steeplechase 8:20!!! 3rd in
NCAA steeplechase.
Rick Williamson - Has run 3:51 for 1500 and 14:35 for 5K. Former coach of Aurora High School, Northwood
University, Notre Dame College and currently the distance coach of Wright State
University.
Michelle Rupe - Brecksville High School, The Ohio State University, qualified for two Olympic Trials in the marathon with a PR of 2:41
Ryan Sullivan - Howland High School, Youngstown State University
Heidi Hoffman - McDonald High School, Grove City College
Suzanne Rupe - Berkshire High School, Youngstown State University - Suzanne is a redshirt freshman at Youngstown State University and a 2015 graduate of Berkshire. She ran in all 8 of her State Meets in high school, qualifying to both State cross-country and track all 4 years. She is a 6x First-Team All-Ohio performer in track in the 300m hurdles and 4×800m relay. Her high school PRs include 2:20 in the 800m and 19:15 in the 5k.
Tyler Robakiewcz - Northern Guilford High School, Western
Carolina University
2019 Week 1
2019 Week 1
Tom Sullivan - St. Ignatius High School, Duke University
Austin Mclean - West Jefferson High School, Youngstown State University
Dylan Dombi - Medina High School, Heidelberg University, Youngstown State University - Three time state qualifier for Medina HS. High school pr's of 15:49 (senior) 9:57,4:28, and 1:57at Medina. I never was an all-Ohioan in track or cross. At Heidelberg University, Divison 3,ran 25:09 for 8k and was all region in cross. In track, ran 14:49. Was 3k and mile indoor OAC champ. Sophomore year was all region again in cross country and ran 8:32 for 3k indoors. Again was OAC champ in the mile. Finished up at Heidelberg as 2 time all-conference in cross, OAC indoor champ in 3k freshman year, runner up sophomore year, back to back mile champ indoors. Transferred to YSU after Sophomore year and currently run on the cross country and track team. College pr's are: 10k-32:43 8k-25:09 5k-14:49, 3k-8:32, Mile-4:17, 1500-3:55, 800-1:55.
Erin Pavick - Maplewood High School, Youngstown State University
Andy Morgan - Maplewood High School and University of Akron Standout. PRs 3:51 (1500), 14:16 5k, 24:06 8k,
29:38 10k.
Garrett Crichlow - Twinsburg High School, University of Akron - a junior at the
University of Akron and a 2014 graduate of Twinsburg. In high school he placed
4th in the 1600m for Division 1 at the State Championships his junior and
senior years, and qualified as First-Team All-Ohio in Division 1 for
cross-country by placing 9th in 2013. His high school PRs are 1:52.65 for the
800m, 4:09.26 for the 1600m, 9:27.80 for the 3200m and 15:29.98 for 5k. At
Akron he's ran 3:53.54 in the 1500m, 24:53.20 for the 8k and has been an All-MAC
performer in both the indoor mile and cross-country.
Maria Scavuzzo - Medina High School, Miami University
Bobby Johnson - McDonald High School, Butler University
Ken Sullivan - St. Ignatius High School, Duke University
Maddie Dunlap - Carrollton HS, Kent State University, 2017 D2 State Mile Champion
All camp mailings and payments are to be sent to:
2533 Davis Peck Road
Cortland, Ohio 44410
For mail in payments, checks are to be made out to: "Gopher Running"
2015 Footlocker National Champion Drew Hunter at 2016 NEO XC Camp
Two-Time World Cross Country Champion Craig Virgin signs autographs at 2010 camp.


Previous Staff Members Bridget Franek, Cory Leslie, Michelle Sikes, Pat Sovacool and Chad Balyo in a question answer session with runners.
The Schedule
A typical day at camp includes: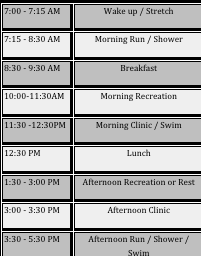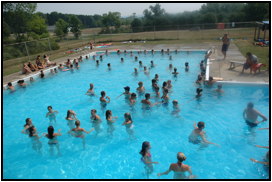 Directions to Templed Hills Camp - 5734 Durbin Road, Bellville, OH:
Take I-71 to the Bellville exit, Route #97
East on #97 for 3 miles to Main Street in Bellville
Right on Main Street to Durbin Street (at the BP Station)
Left on Durbin for 1.5 miles to Templed Hills Camp on the right.


Past Camp Photos
Follow us on: